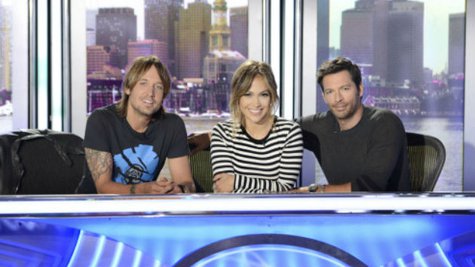 American Idol judges Keith Urban , Jennifer Lopez and Harry Connick, Jr. have all performed separately on the show this past season, but for the finale, which airs Tuesday and Wednesday nights, they're planning a joint performance. However, according to Keith Urban, deciding what to sing hasn't been easy.
"The three of us have been trying to figure out a song we can do for the final," Keith says. "It's proved to be a bit challenging to find one song that works for all three of us, 'cause we are very, very different musically and vocally even. So we may put together several songs in sequence that we can do."
Keith says that's when having a record producer around comes in handy.
"We got Randy Jackson on that trying to figure out a game plan… but I hope we get to do that, 'cause I'd really like to sing with them, both of them."
If the trio does end up performing some kind of weird country/pop/Latin/jazz/New Orleans mash-up, you'll be able to see it on Wednesday night on the American Idol season finale on Fox.
In other American Idol news, the debut singles by Caleb Johnson and Jena Irene, the two remaining contestants in the competition, can now be heard in their entireties at AmericanIdol.com , and are available for download on iTunes. It's the first time that the singles have been released ahead of the finale. Caleb's is called "As Long as You Love Me," while Jena's is called "We Are One."
Follow @ABCNewsRadio
Copyright 2014 ABC News Radio