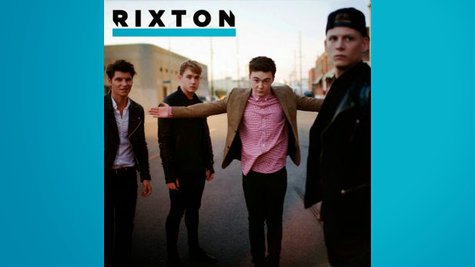 Rixton is the latest British act to climb the U.S. charts, thanks to their hit "Me and My Broken Heart." While the group didn't write the tune, lead singer Jake Roche says unfortunately, he was able to relate to it only too well.
"It was the last song that we recorded for the EP and the album," Jake tells ABC News Radio. "The funny thing is, before we went and recorded it, I split up with my girlfriend. I did have the broken heart."
But the song doesn't sound sad, and that's part of its appeal, according to the guys.
"It's kind of got this kind of reggae-filled vibe to it, hasn't it?" says Jake. "And this kind of hip-hop drumbeat. So yeah, we're so happy we've led [with] this [as] our first single because we love this song." Drummer Lewi Morgan adds, "I think anyone can relate to it, really...everyone at some stage of their life's gone through some form of heartbreak. I usually say it's a longingness for love, and an anthem for broken hearts."
"I also think the music is quite universal for that song, because it's upbeat but...it's not too teeny-bopper, is it? It's got still enough soul to it," adds guitarist Charley Bagnall . "It's got a bit of attitude to it as well, which we like," Jake says.
The success of the song, as well as the group's popular YouTube covers, has earned them plenty of fans in the U.S., which is something Rixton still can't get over.
"The first time we turned up in New York there was about 50 fans waiting there for us, and that was the most surreal thing ever," Jake tells ABC News Radio. "We always feel like, 'We haven't done anything, we're not, like, finding the cure for anything, we're just making music.' But it's so humbling, man. The fact that we're so far away from home and people are listening to our music and appreciating it is just the most incredible feeling ever."
Also humbling is the fact that their career is being guided by Justin Bieber 's manager, Scooter Braun , who first noticed them on YouTube, and super-producer Benny Blanco . In fact, the guys are so amazed that they're working with Scooter and Benny that they can't quite believe it's actually happening.
"We still think it's not real," laughs bass player Danny Wilkin . "It's just the longest Punk'd episode they've ever done! Like, a two-year Punk'd episode!"

Rixton is in the middle of a U.S. tour, which will wrap up May 28 in New York City. Then, the group heads to their native U.K. for more dates.
Follow @ABCNewsRadio
Copyright 2014 ABC News Radio