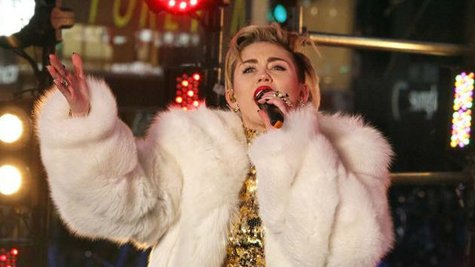 Miley Cyrus made headlines over the weekend when she delivered an obscenity-filled rant onstage at a London club which many believe was directed towards her ex-fiance, Liam Hemsworth . Now, Miley's taken to Twitter to deny he was the subject of her harsh words.
During her performance at the club, which is called G.A.Y., Miley intro'd the song "Wrecking Ball" by talking about how happy she was that it was so popular, because the person who broke her heart would be sure to hear it all the time.
"Every time you get in your car, you're going to hear my f***ing song on the f***ing radio, you piece of s**t," she announced, adding, "I'm gonna hold the record for the most-watched music video on VEVO...I'm gonna tell those motherf***ers that broke my heart, particularly one...to enjoy hearing this song for the rest of your life. This song is called 'Wrecking Ball.'"
But now, Miley tweets , "Just FYI what I said the other night at G.A.Y had nothing to do with Liam. I was just tryin to rile up the boys. I don't usually respond to tabloidy stuff but this isn't something I want being spread around. It sounded hateful but not what I meant."
"I never want hateful things being said about those I care about...," she added. "I was just tooooo turnttttt up."
Follow @ABCNewsRadio Copyright 2014 ABC News Radio