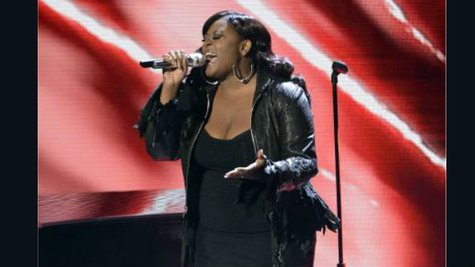 Reigning American Idol champ Candice Glover just released her debut album last month, and she's already moving into acting.
The singer has landed a role in Northpole, an upcoming holiday movie on the Hallmark Channel . The movie is about a reporter named Chelsea who tries to recapture the joy of the holiday season with the help of her son, his teacher and an elf from the North Pole. The movie stars Tiffani Thiessen as the reporter.
On Twitter, Candice revealed that her character sings in a choir with Chelsea's co-worker. "I have a small role in the upcoming movie, and do more singing than acting. But it was fun getting to do both!" she tweeted , adding , "My character's name is Josephine in the movie. That's my grandma's name. but I have some really important info to deliver in the movie."
Candice also used Twitter to express her disappointment with those who criticized her when they heard the news, intimating that appearing in the movie somehow isn't impressive enough. She tweeted , "I could announce that I cured world hunger and someone would be like 'that's not even that big of a deal' the world we live in...*sigh*."
"But I have my [fan] family of 'candicanes' who support and believe in me and our family is growing everyday," she added . "I appreciate you all."
Copyright 2014 ABC News Radio