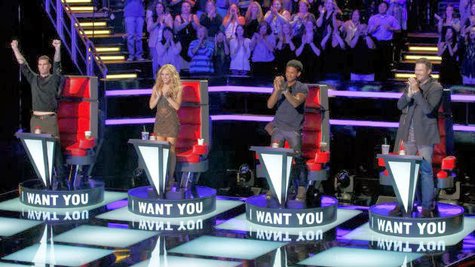 The Voice aired more blind auditions on Tuesday night. Once again, Adam Levine , Blake Shelton , Shakira and Usher sat in their rotating chairs and evaluated the hopefuls.
Here are the highlights from the one-hour show:
Megan Rüger was first up; she sang Pink 's "Just Like A Pill." In the final seconds, Blake and Usher turned around. Blake liked the fact that she's from Nashville, not to mention the fact that her voice became more powerful as the performance went on. He will serve as Megan's mentor.
Morgan Wallen covered "Collide," by Howie Day . Shakira and Usher both made a bid for him. Usher claimed he let Shakira press her button first because she's a lady. After Shakira complimented him, Adam said the two were having a "lovefest." He then sat on Blake's lap. Morgan joined Usher's team.
Emily B. is a session singer who has been heard in the movie Pitch Perfect and on former Voice coach Cee Lo Green 's 2012 Christmas album. She performed Chris Isaak 's "Wicked Game." Shakira, Blake and Usher all turned around. Shakira said it was an intelligent choice to change the arrangement of the song, and it would be an intelligent choice for Emily to choose her. And Emily did just that.
Stevie Jo , 19, took a gamble by singing an Usher song, "There Goes My Baby." Usher was the only coach to press his button. He, along with Adam and Blake, were astonished that the vocals came from a white man. Usher joked that Stevie made a great song selection, and he complimented the way he "maneuvered" through the lyrics.
All four coaches tried to woo the final contestant of the night, Audra McLaughlin , who belted out "Angel from Montgomery," originally recorded by John Prine and later covered by Bonnie Raitt . Shakira described Audra's vocals as raspy and powerful. Blake mentioned that his wife, Miranda Lambert , has performed that song many times. Audra picked Blake.
The blind auditions continue next Monday and Tuesday night on NBC.
Copyright 2014 ABC News Radio