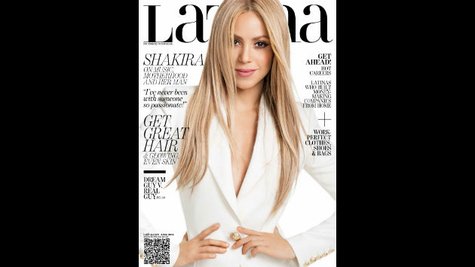 S hakira and her boyfriend, Spanish soccer star Gerard Piqué, are already parents to one-year-old son Milan , but Shakira says she's ready for more. A lot more. In fact, she says she'd like to have enough kids to make up her own soccer team.
Speaking to Latina magazine, the singer and Voice coach says, "If it weren't because of my music projects, I would be pregnant already. I would love to have eight or nine kids with Gerard -- my own fútbol team." " Fútbol ," is, of course, the Spanish word for soccer.
Shakira was in a long-term relationship with another guy before she got involved with Gerard, but she says that he's "the most amazing man I've ever met." Why? She tells Latina , "He's with me because he wants to be with Shakira the person, not the celebrity. There's real love, there's no ulterior motives...We want the same things, we like the same things, we hate the same things. I have never been with someone so passionate in my life."
The singer also spoke with the magazine about her upcoming self-titled album, which is coming out later this month. "There was a lot of fighting with myself about what direction I wanted to go," she says, but adds that surprisingly, being a mom has helped her to narrow things down. "I used to go in circles around an idea, but since [Milan] arrived I don't have much time -- I have to rush back home -- so he has helped me learn how to focus," she explains.
Musically, though, Shakira tells Latina that she will always be "a little bit of everything," and the disc includes reggae, rock, folk and dance influences. It arrives in stores March 25.
Copyright 2014 ABC News Radio