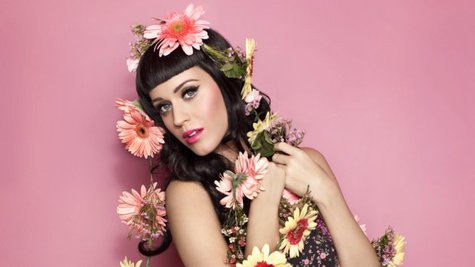 Katy Perry says that smooch she shared with Miley Cyrus at the "Wrecking Ball" singer's February 22 concert in L.A. was just going to be a "friendly girly kiss," but she pulled away when Miley tried to "go deeper."

Katy recalled the girl-on-girl moment during an appearance Wednesday morning on Australia's TV show Sunrise . Katy told the hosts, "I just walked up to her to give her like a friendly girly kiss, you know, as girls do, and then she like tried to move her head and go deeper and I pulled away."

"God knows where that tongue has been. We don't know. That tongue is so infamous," Katy added.

The singer managed to avoid discussing her love life and her rumored split from John Mayer when a young fan asked if she had a boyfriend. Katy declared, "All of my fans are my boyfriend," and then turned to a koala bear on the live TV set and added, "This is my boyfriend."
Also during her visit to the show, Katy tried her hand at being an Aussie meteorologist, prompting laughter from the hosts.

Katy is Down Under promoting her upcoming Prismatic world tour, which kicks off in May in Northern Ireland. It hits North America in June, and then heads to Australia in November.
Copyright 2014 ABC News Radio