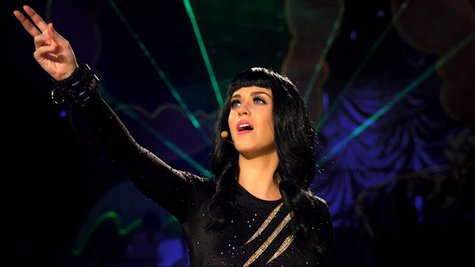 In an interesting bid to get fans excited for her current tour, Katy Perry is inviting them to watch her on her last tour.
Katy Perry: Part of Me, the 2012 movie that documented her life on and offstage during her California Dreams tour, is now available for rental and subsequent streaming on Katy's Facebook page . According to Variety , it costs $4 to stream the film, which will then be available for a 48-hour period.
Variety reports that this move makes Paramount, the studio behind the film, the first major studio in several years to distribute a full-length film on Facebook. When the movie originally came out, it earned just under $33 million, and made headlines for showing Katy having an emotional breakdown as her marriage to ex-husband Russell Brand disintegrated.
Katy's current Prismatic world tour kicks off its North American leg on Sunday.
In other Katy news, she recently dropped by the Kohn Gallery in Hollywood to check out an art exhibit called The Gay '90's: West , by artist Mark Ryden . Her interest in the exhibit? Ryden included a portrait of her in the show, called Katy Aphrodite . Katy also collaborated with Ryden on a concept album he created to accompany the exhibit. In an Instagram photo , Katy is shown posing with the portrait and Ryden, who she calls "the king of signs and symbols."
Follow @ABCNewsRadio
Copyright 2014 ABC News Radio