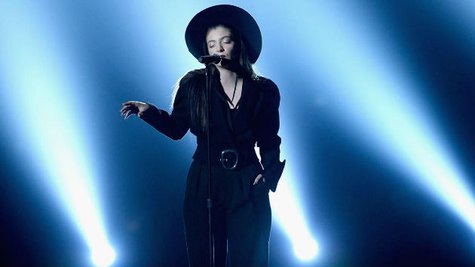 Not long ago, Lorde tweeted her happiness over the fact that her parents, who have been together nearly thirty years but never married, finally got engaged at Niagara Falls. But will she be their wedding singer? Sure, says the 17-year-old star.
"If they want me to sing, I will sing," she told the Confidential section of the Australian website News.com.au . "I can do that."
"It's awesome. I'm so happy for them. After 30 years, you don't think they're ever going to get married," Lorde said of her parents, Vic O'Connor and Sonja Yelich . "Now I can go to a wedding, and I'm excited about that."
O'Connor, a civil engineer, and Yelich, an award-winning poet, have three other children in addition to Lorde, who was born Ella Yelich-O'Connor.
In other Lorde news, she says she has nothing against Iggy Azalea , who recently criticized her performance at the Rock and Roll Hall of Fame induction ceremony with the remaining members of the band Nirvana . Iggy told Billboard, "Nothing against [Lorde], but I think when you're doing a tribute to someone that's dead, generally it should be the person's peer. Lorde is not [late Nirvana singer] Kurt Cobain 's peer. No matter if she killed the performance or not, I just don't think it's appropriate."
Lorde, however, tells the website , "I enjoyed it. I had a good time. That's all that mattered. I've been in a position where I've said something in an interview where I've thought: 'Damn, I wish I could take that back.' I don't know how [Iggy] is feeling about it. But anyone who's doing well deserves respect, and I respect what she's doing."
Follow @ABCNewsRadio
Copyright 2014 ABC News Radio