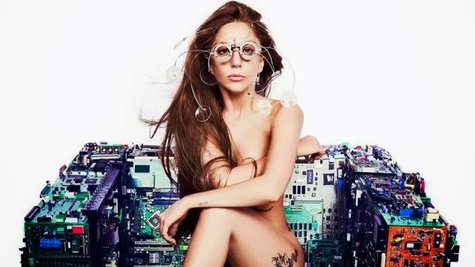 Ever since Lady Gaga acquired her French bulldog puppy Asia , she's been posting pictures of the adorable pup non-stop on Twitter and Instagram. However, some recent photos of Asia sporting her mom's jewelry have raised the ire of PETA, People for the Ethical Treatment of Animals.
In one photo , Asia looks glum, with two huge bejeweled earrings clipped to her doggy ears. " I don't have time for this moms ," it's captioned. In another, she's wearing earrings, a bracelet and a necklace; the caption reads, " Maybe I just keep the bracelet tho...how muches?" Still another has Asia wearing a necklace and some sort of bejeweled face mask. The caption is "Little McQueen," which seems to indicate the pieces are by the late fashion designer Alexander McQueen, a friend of Gaga's.
Now, PETA has posted a note to Gaga on its website, saying she shouldn't be putting jewelry on her puppy.
"Lady Gaga may choose to decorate herself with elaborate and even uncomfortable outfits, but Asia doesn't get to make that choice," reads the note. "Although it seems pretty clear that Lady Gaga loves Asia, we think Asia -- and all dogs -- are adorable without all the added flair and that the best accessory for any dog is a comfortable, secure, well-fitting harness, which is perfect for long walks together."
Follow @ABCNewsRadio
Copyright 2014 ABC News Radio