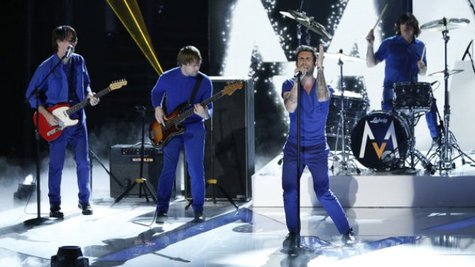 Adam Levine describes Maroon 5 's upcoming fifth studio album -– appropriately titled V , as in "Five," -- as "an all-encompassing kind of record."

"This album is very much all over the place," Adam tells MTV News . "There's some stuff on our record that sounds a little like early Maroon 5, and then there's some stuff that sounds like the newer direction that we went in."

The singer continues, "I think that's kind of the idea behind the album. It's our fifth record. [Five] is literally part of our name. We thought we'd get back to certain elements that we'd been missing out on for a while with our original sound, but also bridge the gap with the new stuff that we've been doing."

Adam adds, "I think it's an all-encompassing kind of record."

The 35-year-old singer confirms that Gwen Stefani , who'll be coaching The Voice alongside him this fall, appears on the album.

"She's incredible. It was so much fun. We just sat around and talked for hours. It was so fantastic getting to know her. I'm a huge fan of hers." Adam says he can't reveal the title of their collaboration because it's still being mixed and he hasn't named it yet.

Asked about the group's new single "Maps," Levine replies, "It was just one of these things that we were really excited to release into the world."

V will arrive September 2.
Follow @ABCNewsRadio
Copyright 2014 ABC News Radio