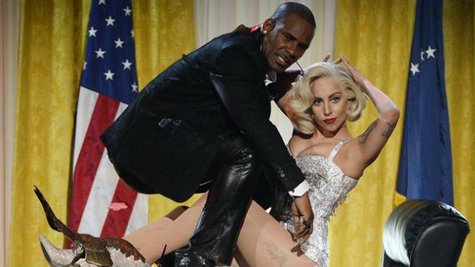 Last year, Lady Gaga promised fans a video for "Do What U Want," her duet with R. Kelly . However, the clip, which was supposed to come out in December, never appeared. At the time, the singer blamed scheduling issues, as well as a non-supportive team who "betrayed" her. But now, word comes that the video was deep-sixed because of its raunchy content, and the involvement of scandal-scarred Kelly and controversial photographer and video director Terry Richardson .
According to the New York Post 's Page Six , the clip, directed by longtime Gaga collaborator Richardson, shows the singer on an operating table, with Kelly as her doctor. Gaga asks Kelly, "Will I ever be able to walk again?" and the singer replies, "Yes, if you let me do whatever I want with your body." A source tells the paper that Kelly then adds, "I'm putting you under, and when you wake up, you're going to be pregnant."
Kelly, of course, has been dogged for years by rumors of sexual misbehavior with young girls, but the Post reports that in December, a major article detailing just how many cases there were was published. Around that same time, Richardson, who appears briefly in the video, was accused of sexual misconduct with a number of his models. He's denied the accusations, but the timing could not have been worse.
A source tells Page Six , "Gaga had a video directed by an alleged sexual predator, starring another sexual predator. With the theme, 'I'm going to do whatever I want with your body'? It was literally an ad for rape."
TMZ has since obtained scenes of the video , which show a nearly naked Gaga rolling around and simulating sex with newspapers filled with tabloid headlines about her while Richardson takes pictures of her. She's also seen -- yes -- on an operating table, with Kelly as the doctor.
Follow @ABCNewsRadio
Copyright 2014 ABC News Radio