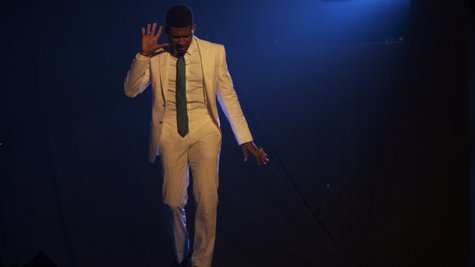 Justin Bieber has apologized for the videos that appeared over the past week showing him telling racist jokes and using the "N-word" when he was 14 and 15 years old. While many celebrities have defended Justin since then, the one person everyone has been waiting to weigh in on the topic has finally broken his silence: Justin's mentor, Usher.
The singer, who first introduced Justin to the world in 2009, posted a photo of himself and the Bieb together on his Instagram account, along with a lengthy message defending his protégé. "A t my core, I am a person that supports growth and understands [that] without judgement, that growth often comes as a result of pain and continues effort," he writes. "As I have watched Justin Bieber navigate difficult waters as a young man, I can tell you that he hasn't always chosen the path of his greatest potential, but he is unequivocally not a racist."
Usher continues, "What he was 5 years ago was a naive child who did not understand the negative power and degradation that comes from playing with racial slurs. What he is now is a young man faced with an opportunity to become his best self, an example to the millions of kids that follow him to not make the same mistakes."
Justin has yet to respond to Usher's words, but he's posted a link to the apology he issued after the first video, which he recorded when was 15, appeared. That apology reads, in part, "I take my friendships with people of all cultures very seriously and I apologize for offending or hurting anyone with my childish and inexcusable mistake. I was a kid then and I am a man now who knows my responsibility to the world and to not make that mistake again."
Will these videos ultimately hurt Justin's career? In a column on that topic , Billboard magazine writes that the singer has made so many missteps in the past year that this one will be " be folded into several others, which will be tidily packaged as the Series of Screw-Ups necessary to achieve a proper Redemption Story and formally kick-start his adult career."
Or, in other words, Billboard notes, " Bieber's racist comments won't really damage his public image -- he has to painstakingly remake that anyway....He came, he conquered, he messed up big time. But he'll grow up, and so will his audience. Bieber may be in full self-destruct mode now, but the pieces can always be put back together."
Follow @ABCNewsRadio
Copyright 2014 ABC News Radio