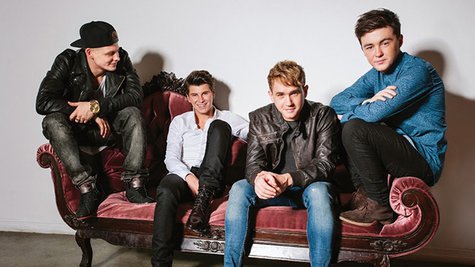 British band Rixton is one of the breakout acts of 2014, thanks to their hit "Me and My Broken Heart." The guys have now spent quite a bit of time in the U.S. since being signed to their record deal by Justin Bieber 's manager, Scooter Braun , traveling the country on various promotional tours. They've also noticed some "bizarre" and "strange" differences between America and their home country, England.
The first thing that the guys find amazing is, well, just how big America is. What drove home that particular point for the band was, of all things, the climate.
"The strangest thing for me is, we were in the north of America and it was snowing, freezing cold, minus temperatures," recalls Rixton bass player Danny Wilkin . "[Then], we got on a three-hour flight and it was 80 degrees, boiling hot, sunny -- like, we couldn't believe it. Like, the vastness of all the different qualities that America has is just bizarre to us. Because, like, the U.K., it just rains every day. That's it."
Another difference, lead singer Jake Roche points out, is the behavior of the fans in the two countries.
"I think the U.S. fans are a lot more full-on with you. They're not shy to come over and say, 'Gimme a picture right now,'" he explains. "Whereas the U.K. fans, they all kind of sit back and, like, eye you for a while, to try and judge whether it's OK to come over for a picture."
Overall, Jake says, Rixton's American fans are "much more involved" -- to the point where they're actually stalking the band. But they don't really mind: they think it's cool.
"The best thing is, 'cause of stuff like Twitter and the social media, they all talk to each other, and they all tell each other, like, 'What time are they getting in at this airport?'" Jake marvels. "And so, they know what we're up to before we do, which is incredible!"
"It's so strange," adds guitarist Charley Bagnall . "'Cause we get off a plane and like, there's fans there, and you just go, 'We haven't said anything [but] you're here!' It's brilliant!"
Rixton will be back in the U.S. to once again be stalked by their hordes of fans on July 30, when they start a headlining tour in Boston. Between now and then, they'll be playing a series of small headlining shows and festival dates in the U.K.
Follow @ABCNewsRadio
Copyright 2014 ABC News Radio