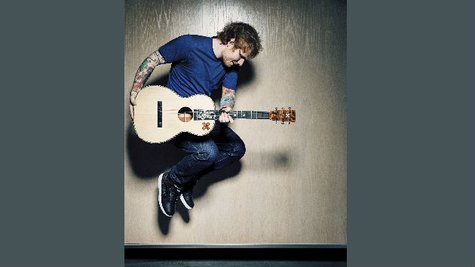 Ed Sheeran's been a star in his home country of England longer than he's been famous in the U.S., but he still hadn't managed to top the chart there, until now. Ed's latest track, "Sing," has become his first U.K. #1 hit.
It's fantastic!" Ed told Britain's Official Charts Company . "It's nice to finally have a number-one in my home country. Thank you to everyone who supported the single for making this happen." Of course, it's not Ed's first success in England: he's previously racked up an impressive 12 top-40 hits on the British singles chart, and co-wrote One Direction's "Little Things," which reached #1.
Meanwhile, in advance of MTV's documentary about him -- Nine Days and Nights, which debuts Tuesday night at 11 p.m. -- Ed is revealing 100 things you didn't know about him on MTV.com. Here are a select few:
-The craziest thing he has done to show a girl he loves her was fly halfway across the world to spend an afternoon with her.
-Australia is his favorite country that he's visited.
-His favorite song to sing in the shower is "Everytime," by Britney Spears.
-A fan's mother once came up to him backstage and said that since her friend's son's first kiss was Carrie Underwood , and would he be her daughter's first kiss?
-The last time he texted Taylor Swift was yesterday.
-The one person he admires the most in his life is his dad.
-"Sing" is his current favorite song to perform.
-He's a huge fan of the Backstreet Boys .
-He would love to hear Beyonce cover one of his songs.
-The first celebrity he ever met was Prince Charles .
-The one thing he couldn't live without is Oreos.
-If he could guest star on any TV show, it'd be Game of Thrones .
-His biggest pet peeve is rude people.
-His biggest turn-off when it comes to girls is arrogance.
-His worst fear is heights.
-His favorite movie of all time is Goodfellas
-The biggest purchase he has made since "blowing up" is a house.
Follow @ABCNewsRadio
Copyright 2014 ABC News Radio
Get More: Ed Sheeran ,