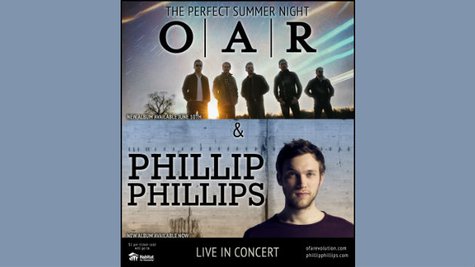 Phillip Phillips won't just be entertaining fans when he hits the road next week on his summer tour: he'll be helping people too.
Phillip and his tourmates, the band O.A.R., will be donating one dollar from every ticket sold to the tour to Habitat for Humanity, to support the organization's goals of providing low-income families with safe, decent and affordable housing. Plus, Phillip and O.A.R. are donating 10 tickets at every tour city to Habitat for Humanity volunteers, staff and homeowner families. There will also be booths set up with information about the work the organization is doing.
In addition, there will be online auctions for "VIP experiences" in each city that include premium tickets and meet-and-greets. That money will go to local Habitat affiliates.
"My team has personally seen the incredible impact Habitat for Humanity can have on lives," Phillip says in a statement. "We have worked on builds from...New Orleans following Hurricane Katrina to local neighborhoods in my community. Habitat's roots stem from my home state of Georgia but their reach is now worldwide. I am honored to partner with [them] in carrying out their mission."
The tour gets underway June 12 in St. Louis, and runs through July 26 in Atlanta. Phillip is supporting his new album Behind the Light , while O.A.R. has a new album, The Rockville LP -- named after their hometown of Rockville, Maryland -- hitting stores this Tuesday.
Follow @ABCNewsRadio
Copyright 2014 ABC News Radio