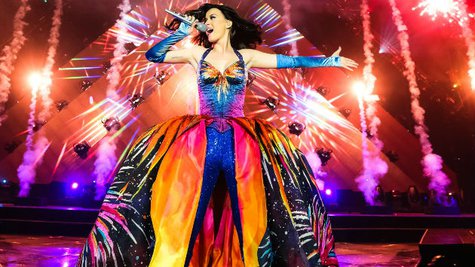 Katy Perry 's Prismatic world tour has been underway for a while now, but only overseas. It doesn't hit North America until later this month, but Katy's getting fans hyped by releasing a new video featuring highlights of the show.
"Does it look like we are having fun... cause we are," she tweeted , adding a link to the video . "Can't wait to see you [America]."
In the video, which is set to her latest single, "Birthday," you see Katy onstage performing all her hits. You can't hear her sing, but you get a good look at all of her many costumes, which range from colored vinyl raincoats and a silver cheerleader-looking outfit, to an Egyptian-themed ensemble, a pink catsuit, a dress with an enormous two-story "skirt," a neon bra and skirt ensemble and many, many more. There are also plenty of special effects -- like Katy flying over the audience holding a bunch of balloons -- as well as backup dancers, cool lighting and, of course, fireworks.
The U.S. leg of the Prismatic world tour, with opening acts Capital Cities and Kacey Musgraves , begins June 22 in Raleigh, North Carolina.
In other Katy Perry news, the British tabloid The Sun reports that the singer seems to have reconnected with an old flame: Robert Ackroyd , guitarist for the British band Florence + the Machine .
The two first hooked up at the Coachella festival in 2012 and then dated for a few weeks before splitting amicably; Katy then went on to date John Mayer . The paper says Katy and Robert were seen kissing and cuddling at an after-party in London over the weekend; a source tells E! Online , "Katy and Rob are very close and have remained close since they broke up a while ago." Well, even "close" friends usually don't canoodle, but who knows?
Follow @ABCNewsRadio
Copyright 2014 ABC News Radio