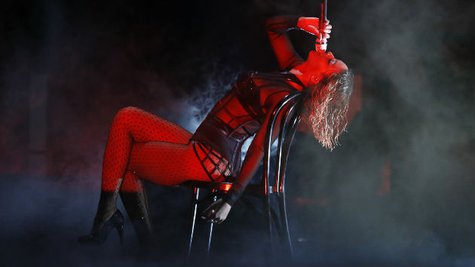 Pharrell 's Vivienne Westwood hat wasn't the only topic of discussion at the 2014 Grammy Awards. Tongues are still wagging over Beyonce 's fashion choices at the ceremony. The diva stunned in her white sheer Michael Costello fishnet gown and the black La Perla performance ensemble, which her stylist Ty Hunter says were well-thought out.
In an interview with Billboard , Hunter recalls the inspiration for the stage look. "The style team -- comprised of Raquel Smith and Timothy White ( Karen Langley helped with the performance outfit) -- wanted to emulate the video with a different spin," he says. " Kim Kimble did her hair, but it was all coming from the 'Drunk in Love' video. Just trying to bring an even more sophisticated look to the stage."
So why did Beyonce go with the fresh-out-the-shower look? He explains, "The style team wanted to go for sexy and elegant."
In terms of her head-turning red carpet gown, Hunter says they were looking for "something a little different." He adds, "When we saw the Michael Costello dress, we knew instantly we found the one! We had so many options to choose from, but that one was just it."
Copyright 2014 ABC News Radio