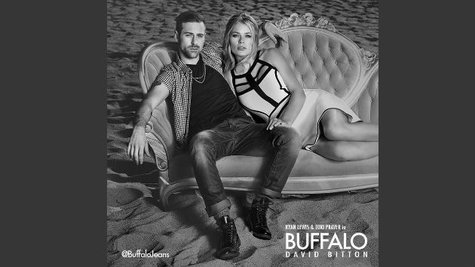 Macklemore & Ryan Lewis may get equal billing, but let's face it: most of the focus has been on Macklemore. Well, now Ryan Lewis is getting his props: he's been tapped to model in the new spring campaign for the Buffalo David Bitton [bih TOHN].
The rap duo has been associated with the label for a while, in a partnership which allowed them to create a video documentary of their tour. Ryan tweeted , "I'm happy to be the face of @ BuffaloJeans spring collection! From tour videos to now, they've been awesome partners."
In a video documenting the shoot for the campaign, Ryan and model Tori Praver are shown lounging on a fancy sofa on the beach in Malibu, California. "It's been exciting...to have done a whole bunch of photo shoots in my life; this is a completely different thing," says Ryan. Speaking about the jeans he's modeling, Ryan says, "They have so many different washes, so many different cuts. I really like tighter jeans; fitted jeans." He adds, "Now more than ever, fashion and hip-hop culture are thriving together."
Ryan also says that 2014 will be "the year of getting back in the studio" for him and Macklemore.
Copyright 2014 ABC News Radio