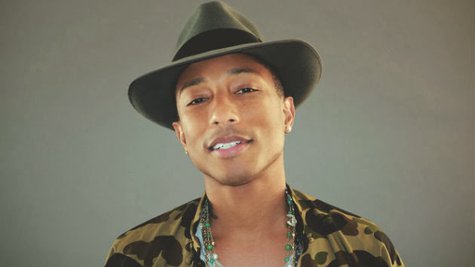 This is a nice warm-up for the Academy Awards on Sunday: Pharrell Williams ' Oscar-nominated smash "Happy" has finally reached the #1 spot on the Billboard Hot 100, replacing Katy Perry 's "Dark Horse," which ruled for four weeks. Pharrell will perform the song at Sunday night's ceremony, which will air live on ABC.
Billboard notes that "Happy" is Pharrell's first-ever #1 hit as a lead artist. Previously, he'd topped the charts with "Drop It Like It's Hot," "Money Maker" and "Blurred Lines," but the lead artists on those hits were, respectively, Snoop Dogg , Ludacris and Robin Thicke . He's also produced and co-written two other #1 hits: Gwen Stefani 's "Hollaback Girl" and Nelly 's "Hot in Herre."
"Happy" is the first Oscar-nominated song to hit #1 since Eminem 's "Lose Yourself." And in the more than 50 years that the Billboard Hot 100 chart has been around, it's only the 17th song to hit #1 and be nominated for a Best Original Song Oscar. But as Pitchfork points out, if "Happy" wins on Sunday, it'll be the only song ever to win an Oscar while it was #1 on the charts. All the other ones had already dropped out of the top spot by the time they won the trophy.
Copyright 2014 ABC News Radio