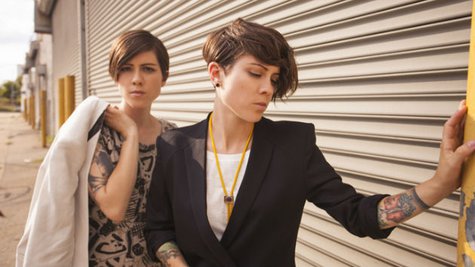 Everything really is awesome for Tegan and Sara right now. The Canadian duo is riding high with the success of the Lego Movie theme "Everything Is Awesome," they're about to join Paramore on that band's first-ever fan cruse, they're nominated for four Juno Awards -- those are the Canadian equivalent to the Grammys -- and they're touring with Katy Perry this summer. Now, the twins have announced their own headlining tour.
Called the Let's Make Things Physical tour, after the lyrics of their breakthrough hit "Closer," the tour gets underway next week in Canada, and will visit Puerto Rico and Mexico in addition to North America. A handful of festival appearances are also on the bill, including the Firefly Festival in Delaware, the Hangout Festival in Alabama and the Sasquatch Festival in Washington State.
There's no doubt that when Tegan and Sara look out into the audience this time around, they'll see a lot of fans who weren't there a year ago. Ever since the group scored their first-ever mainstream hit with "Closer," they've seen their audiences expand bit by bit, and they couldn't be more thrilled.
"For us, every time we've had any kind of growth with a record we felt very proud and felt very accomplished, but it certainly has been exponential with the success of 'Closer,'" Sara tells ABC News Radio. "And that makes us really proud. We've always thought of ourselves as a very universal band, a band that anyone can like, and to be reaching them now, to be reaching the mainstream, to be on radio -- we're just proud and excited."
The duo also feels that the fact that they've been able to break through in the past year is an indication that pop music is becoming broader these days. After all, a music act made up of identical Canadian twins, both of whom are openly gay, isn't exactly run-of-the-mill.
"It's beneficial to us personally," Sara says of their success. "But I also feel proud that maybe we're changing things a little bit. Maybe we're representing visibly something that's a little different, a little outside of what is, y'know, standard."
Here are Tegan and Sara's tour dates:
3/03 --The Port Theatre, Nanaimo, Canada
3/04 -- Royal Theatre Victoria, Victoria, Canada
3/12 -- Revolution Live, Fort Lauderdale, FL
3/14 -- Coliseo De Puerto Rico, San Juan, PR
4/05 -- Club Skirts Dinah Shore, Palm Springs, CA
4/07 -- El Plaza,Mexico City, Mexico
5/03 -- Big Guava Music Festival, Tampa, FL
5/04 -- Suburbia Music Festival, Plano, TX
5/06 -- The Blue Note, Columbia, MO
5/07 -- Mercury Ballroom, Louisville, KY
5/08 -- The Madison Theater, Covington, KY
5/09 -- Canadian Music Week, Toronto, Canada
5/10 -- Egyptian Room at The Old National Centre, Indianapolis, IN
5/12 -- Marathon Music Works, Nashville, TN
5/13 -- Track 29, Chattanooga,TN
5/14 -- Music Farm, Charleston, SC
5/15 --The Buckhead Theatre, Atlanta, GA
5/16 --Ponte Vedra Concert Hall, Jacksonville, FL
5/17-18 -- Hangout Music Fest, Gulf Shores, AL
5/19 -- The Fillmore, Charlotte, NC
5/20 -- The Orange Peel, Asheville, NC
5/21 -- 9:30 Club, Washington, D.C.
5/22 -- 9:30 Club, Washington, D.C.
5/25 -- Boston Calling Music Festival, Boston, MA
6/16 -- First Avenue, Minneapolis, MN
6/17 -- The Vic Theatre, Chicago, IL
6/18 -- The Vic Theatre, Chicago, IL
06/19-21 -- Firefly Festival, Dover, DE
6/22 -- Toad's Place, New Haven, CT
6/24 -- Hammerstein Ballroom, New York, NY
6/28 -- Meijer Gardens Amphitheater, Grand Rapids, MI
7/06 -- Sasquatch, Quincy, WA
Copyright 2014 ABC News Radio