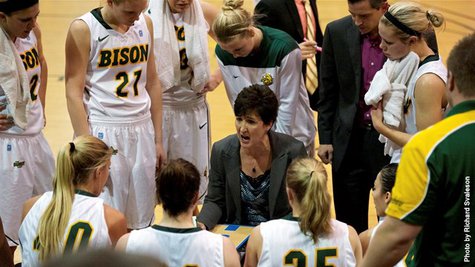 FARGO, N.D. – North Dakota State University director of women's athletics Lynn Dorn announced today head women's basketball coach Carolyn DeHoff has resigned effective April 15.
"Carolyn DeHoff is a person of great character and integrity," Dorn said. "Her commitment to our student-athletes is commendable. However, after a discussion with Carolyn regarding the program, I have accepted her resignation as head women's basketball coach."
Dorn said a national search will begin shortly. DeHoff is in her sixth year at North Dakota State with a 72-101 record. The Bison have three regular-season games remaining at South Dakota State, South Dakota and Denver before playing in the Summit League tournament March 8-11 in Sioux Falls, S.D.
"I want to personally thank NDSU for giving me the opportunity to serve as its head women's basketball coach over the past six seasons," DeHoff said. "I grew tremendously in the profession and want to wish the program and Bison athletics the very best."
DeHoff came to NDSU prior to the 2008-09 season after coaching at the University of Utah (2003-08), Weber State University (1998-03), the University of Wyoming (1991-98) and Coronado High School in Scottsdale, Ariz. (1990-91).
"Carolyn has worked tirelessly to move the program forward," Dorn said. "The student-athletes have always been her priority and they too have worked hard to achieve progress. I thank Carolyn and wish her well in the future."
DeHoff said, "Thank you to the players, coaches and administration and support staff for your efforts. The impact you have had on me will forever be remembered. To the Bison fans and the Fargo-Moorhead community, thank you for your continued support of our players and program."
A native of Cheyenne, Wyo., DeHoff was a standout high school player at Cheyenne East and played at Arizona State University from 1987-90, where she was a team captain.
"We are grateful that North Dakota State University women's basketball is important to our students, faculty, alumni and fans. We will aggressively pursue a coach who shares our passion for women's basketball and the high expectations for its success," Dorn said.