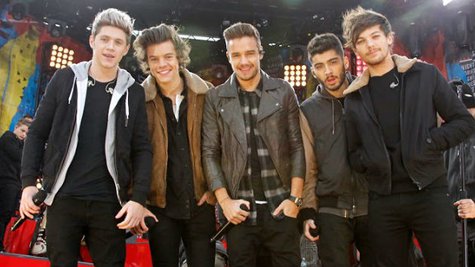 One Direction fans will never have to wait too long for new product from their heroes. After putting out three albums in two years, the group will have yet another new disc out this year, their label boss Simon Cowell now says, and perhaps something on the visual side as well.
Speaking to the British paper The Mirror , the music mogul and X Factor creator said, "I think there's something in the works, a possible TV show. We're going to talk about that in the next couple of weeks. They're always busy, these guys."
He added, however, "The important thing is they've got a new album out this year."
Noting that 1D are nominated in a number of categories at next week's Brit Awards -- the British equivalent of the Grammys -- Cowell said, "It means more to them than it does to me, but I hope they pick up a few. Honest to God, all I'm interested in is record sales. It's nice to get an award but if you don't, you don't. I don't lose any sleep over it."
1D will kick off their massive Where We Are stadium world tour in April in South America. It arrives in North America August 1.
Copyright 2014 ABC News Radio