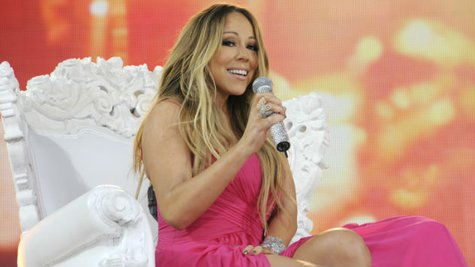 Mariah Carey will help love shine like a beacon all over New York City for Valentine's Day: on Thursday, she'll help light up the Empire State Building is shades of red and pink.
Mariah, accompanied by three couples who've won a contest to tie the knot at the iconic building, will be on hand for a lighting ceremony Thursday morning. It's part of the building's 20th annual Valentine's Day Wedding Event, "Love Above All." Mariah is, of course, promoting her romantic new single "You're Mine (Eternal)," which has just been released.
Meanwhile, Mariah now knows who she'll be serenading on Valentine's Day at a private concert in her New York home. As previously reported, she raffled off the chance to win the concert via the Prizeo.com website, with all the money going to St. Jude Children's Research Hospital. The winner, Lisa Thomas, writes on the Prizeo Facebook page , " I am over the moon with excitement and jumping around my apartment with my friend Andrew right now because WE CAN'T BELIEVE WE WON!!!"
"We donated to Mariah's camp aign because it would be (and is!!!) an absolute dream come true, and we love that she is doing it to support a good cause," Lisa continues. "We're also looking forward to thanking her in person for all of the music she has given us throughout the years. WE LOVE YOU MARIAH!!!"

The Prizeo website reveals that the raffle raised $168,975 .
Copyright 2014 ABC News Radio