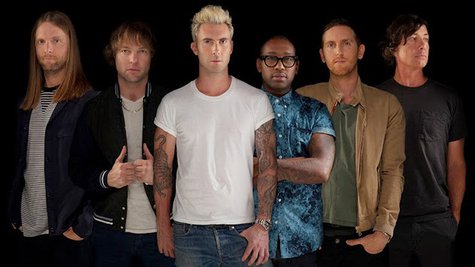 Maroon 5 has recorded some nice ballads in their career, but "Moves Like Jagger" isn't one of them. Still, that hasn't stopped it from being included on a new album called Rockabye Baby! Lullaby Renditions of Maroon 5.
The album, due out August 19, features soothing instrumental renditions of Maroon 5 's biggest hits, including "Payphone," "She Will Be Loved," "Love Somebody," and "This Love," as well as "One More Night" and, yes, " Moves Like Jagger ." While it's hard to imagine any baby drifting off to sleep to that particular song, it becomes pretty mellow when it's stripped of its lyrics and played on a xylophone.
A promotional video for the song shows a cartoon teddy bear walking a red carpet, dancing, standing onstage and even spinning in a big red chair, just like Adam Levine on The Voice.
The Maroon 5 lullaby album is the latest in a series of discs the Rockabye Baby company has been putting out for a while. Over the years, acts ranging from Michael Jackson , Elton John , KISS and David Bowie , to Queen , Pink and Coldplay have gotten the lullaby treatment . Head on over to RockabyeBabyMusic.com to hear the lullaby versions of all your favorite Maroon 5 tunes.
Follow @ABCNewsRadio
Copyright 2014 ABC News Radio