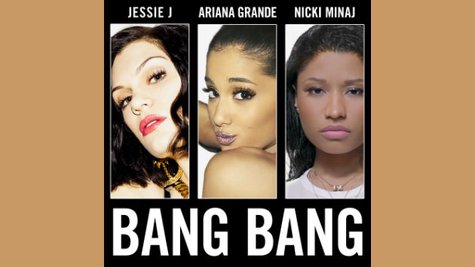 "Bang Bang," the collaboration between Jessie J , Ariana Grande and Nicki Minaj , was a huge hit as soon as it was released, debuting at #6 on the Billboard Hot 100. While it's a lot of fun hearing the three women show off their vocal skills, Jessie says the tune also has an important message.
Speaking to Rolling Stone , the British singer says producer Max Martin sent her "Bang Bang" and she rewrote it a bit. Then, Max suggested Ariana join her on the track, and after Nicki heard it, she wanted to be part of it too. "It kind of became this female anthem, like a girl band. Not a feature, but a moment where all of us can really show off what makes us us. And do it together," Jessie explains.
The three women didn't meet until they shot the video for the track, and Jessie says it made her realize that the song is also about self-acceptance.
"I looked at Nicki and myself and Ariana, all three of us look so different, and we're all equally confident," explains Jessie. "I was pointing at Nicki in the video, [singing], 'She's got a booty like a Cadillac, but I can send you into overdrive!' [Like], I'm not going to rival what she has, but I've got what I've got. That's what I feel like young women, especially, need to hear."
"You have to love yourself, before anyone else can even come in," she adds. "So for me, as a slim, tall-legs-no-boobs-no-bum kind of girl, I've got to represent."
Jessie, who previously scored hits with "Price Tag" and "Domino," says the immediate success of "Bang Bang" has thrown her for a loop. ""My head is exploding from just sheer unbelievable-ness," she tells Rolling Stone . "It's been 10 years. I've just wished for this to happen, so I'm trying to take in every single second of it."
"Bang Bang" is the lead track for Jessie's upcoming album, due this fall.
Follow @ABCNewsRadio
Copyright 2014 ABC News Radio