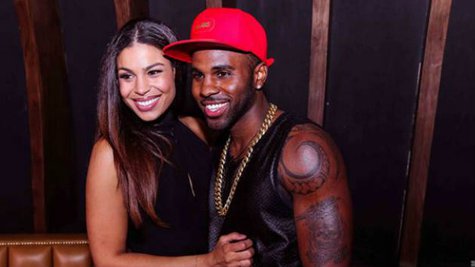 Jason Derulo is so sure that his girlfriend Jordin Sparks is the one for him that he wrote a song about proposing to her aptly titled "Marry Me," and had her star in the music video with him.
"That's the reason why I wrote the song in the first place," he tells ABC's Nightline in an interview airing tonight. "Because I wanted her to know that when the time is right, then it will happen."
But that doesn't necessarily mean he'll be heading to the altar any time soon. The 24-year-old pop star said he wants to wait for the right moment before putting a ring on the former American Idol winner's finger.
"It will be the most amazing time," Jason says. "When I do get down on one knee, it's going to be one of the most amazing experiences of my life, but when the time is right."
Jason and Jordin have been an item for more than two years. They sing together on "Vertigo," a track from his latest album, Talk Dirty .
Jason tells Nightline they work well as a couple because they are "polar opposites." The thing he loves most about her, he says, is that she reminds him of his mother.
"At this point, it's really scary," Jason reveals. "My mother doesn't really have a filter. She's really a sweet, sweet woman. She'll tell you how it is… Jordin's the exact same way. She just doesn't have that filter."
He also said his girlfriend is "always thinking about others" and is "super charitable."
"She's opened me up to new things," he said.
You can watch Jason's interview tonight on ABC's Nightline at 12:25 a.m. ET.
Follow @ABCNewsRadio
Copyright 2014 ABC News Radio