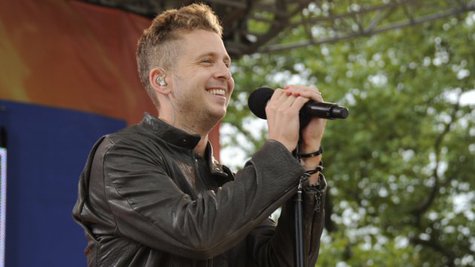 OneRepublic 's Ryan Tedder always seems to collaborate with chart-topping pop divas, but you don't hear much about him working with male performers. However, the singer has confirmed that he's been working on something with One Direction 's Harry Styles , and says he's impressed that Harry, and the other members of the group, have managed to avoid being total basket cases.
Asked by the British paper The Guardian to comment on rumors that he's been writing with Harry, Ryan at first plays coy, but then reveals, "Yes, we did do something, is the truth. I can't say what it's for, though."
He adds, "I did hang out with One Direction in London...I'm always impressed or extremely happy when I end up in the same room with a band who are at the stage of nuclear explosion in their career and they're so normal it almost turns you off. Like, 'How are you not more messed up right now? I'm looking for syringes, where are they?'"
And speaking of stars who are normal, Ryan is also friendly with U2 's Bono -- he's pretty much friends with everyone -- and he tells The Guardian that he was amazed that when the two were driving around Dublin recently, he couldn't believe it when the driver dropped them off outside a coffee shop, and Bono was able to simply walk down the street without being mobbed by fans.
"I'm like, 'No security?' and he's like, 'No, we're in Ireland, it's fine,'" Ryan recalls. "I've never seen that before in my life. He's got a confidence about him."
Copyright 2014 ABC News Radio