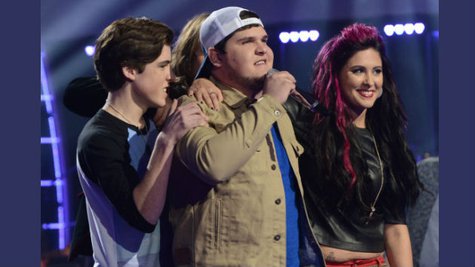 Throughout the current American Idol season, some contestants have said that they've been confused by some of the judges' comments and advice -- especially Harry Connick Jr. 's frequent use of highly-technical musical terms. But the show's latest eliminated contestant says all that could have been avoided...if they had just been issued a reference book ahead of time.
"Harry, you know, he says some crazy stuff sometimes," says Dexter Roberts , when asked how the judges can make themselves more clear to the contestants. "And... Keith [ Urban ], he says some off the wall stuff. But you know, I guess we just need to have a dictionary and we can just look up their terms before we get on the show!"
So he agrees that the judges are talking over the heads of the contestants? "Sorta, sometimes," Dexter tells ABC News Radio. "But we've come a long way and learned to answer their questions, because they kind of taught us as we've been going on."
Now that Dexter's off the show, he'll still be rooting for the rest of the contestants, but will he be rooting for one in particular over the others? After all, he and fellow finalist C.J. Harris were friends for five years before they ever tried out for the show. But Dexter denies that he's favoring C.J. to take the crown.
"Me and him's been together so long, you know, I'm rooting for him, but I'm rooting for everybody because we've become a family," he tells ABC News Radio. "Each week, you'd think we'd be like, 'Oh yeah! I'm glad they're going home!' But it's really sad, because we've become so close to each other, and it sucks to see someone go, so I'm rooting for everybody."
On top of that, Dexter says there won't be any jealousy between him and C.J., even if his friend ends up winning the competition.
"He said the first day, 'If we make it pretty far in the competition, we're still gonna be friends, if [one of us] goes home?' And I was like, 'Of course. We're [still] gonna be buddies.'" In fact, Dexter says he'd like to record an album of duets with C.J. at some point in the future.
But first, the singer from Fayette, Alabama says he plans to head to Nashville to land a solo record deal. And that's not the end of his ambition: he says he'd also like to star in his own TV show about hunting. But which one of those things would he like more?
"Well, I want both, so it's hard," he laughs. "I wanna sing...in front of thousands, millions of people, but I want my own TV show, so it's in between that."
Now that Dexter's out of the Idol bubble, we asked if he could shed some light on one more thing: is Caleb Johnson really going to prom with Jena Irene , as he claimed on the show? "I have no idea," says Dexter. "There's no tellin', betwen them two!"
American Idol continues Wednesday night on Fox, with the contestants each performing a country song and a rock song. Dexter says if he'd stayed, the rock song he had prepared was Aerosmith 's "I Don't Want to Miss a Thing."
Copyright 2014 ABC News Radio