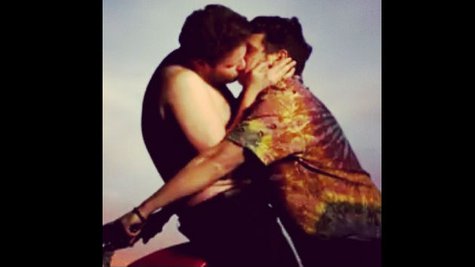 James Franco and Seth Rogen have made it a point to poke fun at Kanye West and Kim Kardashian , from their parody "Bound 3" video last November to their recent recreation of Kanye and Kim's Vogue cover , where they superimposed their faces on the bodies of the "#worldsmosttalkedaboutcouple." Now, it seems the comedic actors have been invited to partake in the couple's wedding festivities.

During a recent interview on on ABC's The View , Franco says West invited the duo to "perform [the 'Bound 2' parody] live the night before his wedding at Versailles."
Franco adds that they seriously considered the offer but says he's "I'm pretty sure it's not going to happen." He explains, "I think it would have been awesome for about 10 seconds, but then there would be Seth with his shirt off in front of all the Kardashians and all the rap world."

Kanye and Kim are reportedly set to exchange vows next month in Paris.
Copyright 2014 ABC News Radio