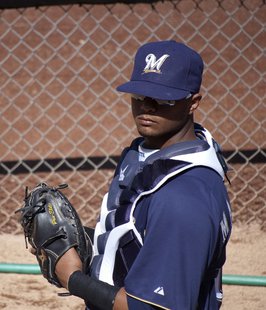 MILWAUKEE (WTAQ) - ESPN says Milwaukee Brewers' catcher Martin Maldonado will be suspended for five games for throwing a punch that cut Pittsburgh's Travis Snider in the face last Sunday.
Major League Baseball did not announce its discipline as of early Tuesday afternoon. ESPN cited a source as saying that Maldonado's punishment was complete -- and he'll be fined $2,500 in addition to his suspension.
Unless he appeals, Maldonado would lose five games of salary but not necessarily five games of playing time -- since he's the backup catcher to Jonathan Lucroy.
There was no immediate word on a punishment for Carlos Gomez, the Brewer who was accused by Pirates' starter Garrit Cole of showing him up by celebrating a triple on Sunday.
After the words, Gomez swung his helmet and ran toward Cole. Both benches emptied.
The Maldonado punch left a cut and bruises around Snyder's eye due to the sunglasses he was wearing at the time.
The Brewers will host San Diego tonight, after a 4-3 victory Monday evening.
(Story courtesy of Wheeler News Service)