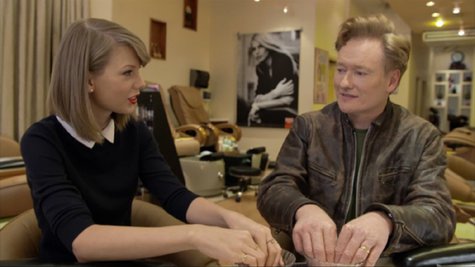 Taylor Swift was all over TV this weekend. One night after she popped up on Saturday Night Live , she made an appearance Sunday night in the opening sketch of the MTV Movie Awards.
In the taped segment , host Conan O'Brien vowed to get 50 celebrities to make cameos in the show's open. Taylor Swift was one of the stars with whom he briefly interacted. The scene featured Taylor and Conan soaking their nails.
Taylor was hoping to spend as little time with Conan as possible, but he suggested that they could "maybe hang for the day."
Later in the clip, Katy Perry is seen overpowering Conan in arm wrestling.
There were a couple of pop musicians who won awards, though not during the MTV broadcast. The Backstreet Boys earned the prize for best musical moment, for their role in This Is The End . Rihanna won the award for best cameo, for appearing in the same movie.
Rihanna teamed up with Eminem during the show for a live performance of their hit, "The Monster" In addition, Zedd and Ellie Goulding performed their Divergent songs "Find You" and "Beating Heart."
Copyright 2014 ABC News Radio
2014 MTV Movie Awards
-
Latest Movie News