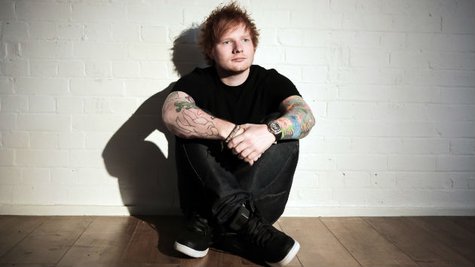 How far ahead does Ed Sheeran plan? Not only does he have the title of his upcoming album -- X -- tattooed on his arm, but he also has tattoos of the titles of his third and fourth albums inked there as well.
Showing off his many tattoos for the Hollywood Reporter, Ed says, "Those are the four albums over the next four years." He's got a "plus" sign for the title of his first album, +; an "x" for the new album, whose title is pronounced "multiply," and then two additional tattoos, for the next two discs after that. He told the Hollywood Reporter not to reveal those titles, however.
As for his other ink, Ed explains that the tattoos on his right arm are for his professional accomplishments, such as three boxing gloves to represent the three sold-out shows he did at Madison Square Garden last year. The ones on his left arm are for "personal stuff," such as a clover representing his grandfather and a teddy bear that represents his childhood nickname, "Teddy."
In the same interview, Ed also says he'll never again give one of his songs to his buddies in One Direction , as he's done in the past. When asked if he would offer any of the songs that didn't make his new album to 1D, he says, "No, they've got enough people that will write acoustic songs for them now. Yeah, that's their new sound... isn't it?" referring to the group's hit "Story of My Life."
"I gave One Direction a song that ended up being a No. 1 in England," he continues, referring to the track "Little Things." "And the week it was [added to the playlist at the BBC], I [released] my new single. And it didn't get [added] because [the BBC] said, 'We already have an Ed single on the playlist.' So I'm done with giving songs to people."
The Hollywood Reporter notes that it's hard to tell if Ed is actually serious about that, or simply joking.
In other Ed Sheeran news, he announced on Twitter that he's recorded a song for the upcoming movie The Fault in Our Stars , based on the best-selling young adult novel. "i wrote the end credits song for the fault in our stars movie," he tweeted, "its called all of the stars and will be out in about a month."
The movie, starring Shailene Woodley as a teenage cancer patient, hits theaters June 6.
Copyright 2014 ABC News Radio