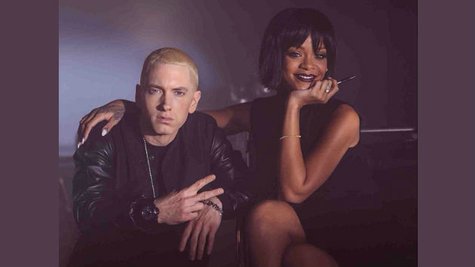 The focus will be on films, but there will be plenty of music as well at the 2014 MTV Movie Awards , airing this Sunday night.
The big draw is Eminem and Rihanna, who'll perform their #1 duet "Monster" for the first time ever on TV . The two acts will kick off their Monster tour August 7 in Pasadena, California. It'll also visit New Jersey and Detroit before wrapping up August 23.
In addition, Ellie Goulding and Zedd will be on hand to perform songs from the soundtrack of the movie Divergent , on which they are both featured.
Among the songs that will be performed are "Beating Heart," Ellie's official single from the soundtrack, as well as Zedd's "Find You," which features vocals by Matthew Koma and Miriam Bryant .
Rihanna isn't simply performing on the show, by the way: She's also a nominee. She, as well as the Backstreet Boys , are both nominated for the cameos they made in the Seth Rogen comedy This Is the End , but in different categories.
Rihanna's nominated for Best Cameo Performance for her scene in the movie where she rebuffs Michael Cera 's advances at a party by slapping him in the face, and then -- SPOILER ALERT -- falls to her death when a huge gaping hole opens up on the front lawn of the house where the party's taking place. The Backstreet Boys are nominated for Best Musical Moment for a scene in This Is the End where they perform one of their biggest hits in heaven. That sounds weird, but trust us, you have to see the movie.
They aren't the only musical acts who are nominated, either: Kanye West is up for Best Cameo Performance for his appearance in the comedy sequel Anchorman 2. The rapper is also nominated in the category of Best Fight for the massive brawl he gets into during Anchorman 2 with Will Ferrell , Paul Rudd , Steve Carrell , James Marsden , Sacha Baron Cohen , Jim Carrey , Will Smith , Liam Neeson and other stars.
The 2014 MTV Movie Awards air Sunday, April 13, live on MTV at 9 p.m. ET/PT. Conan O'Brien will be the host.
Copyright 2014 ABC News Radio