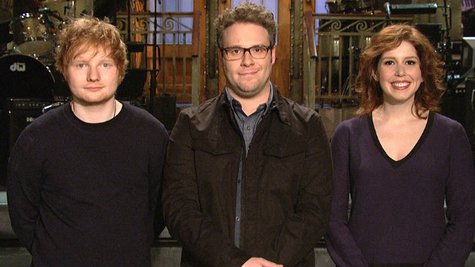 You've heard Ed Sheeran's new single, "Sing." Now you'll get to see him perform it on TV for the first time Saturday night.
Ed will make his debut on Saturday Night Live this weekend, bringing fans the "global television premiere" of "Sing," the first single from his sophomore album, X [multiply], due in June. Ed tweeted on Thursday that he was "rehearsing for SNL" -- it's possible that in addition to performing, he'll also appear in a sketch, but we won't know until we tune in.
According to the Hollywood Reporter , his second song will be "Don't," which has already made headlines for being inspired by a mystery woman who he says cheated on him with a friend.
Seth Rogen will host the show, and he, Ed and cast member Vanessa Bayer all appear in promos for it. In one, Vanessa talks enthusiastically about the fact that there will be "two gingers" -- in other words, two red-haired people -- onstage this weekend: herself and Ed. "Redhead power!" she yells and high-fives Ed. When Seth asks if he should dye his hair red as well, Vanessa replies, "Oh, no. That would look awful," while Ed chimes in, "I wouldn't do that."
Ed's the third British musical act to be featured on SNL so far in 2014, following Bastille and Sam Smith .
Copyright 2014 ABC News Radio