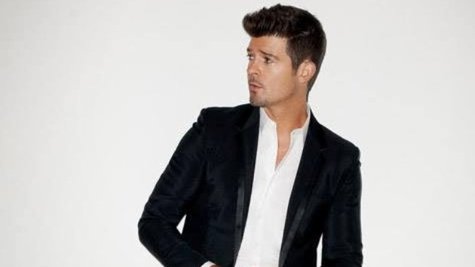 Most moms would probably be annoyed if their son was cavorting with half-naked women in front of the entire world while singing about sex. But Robin Thicke 's mom, Gloria Loring , says she doesn't have a problem with her son's smash hit song and video, "Blurred Lines."
Speaking to the WHOA! Network , Loring says, "I have known for years how playful my son is, and how he loves to be a little naughty and a little, um, oppositional...he has a great sense of humor." She says that when Robin and Pharrell Williams wrote the song, they were "kinda poking fun at how [married] guys look at young girls and go, 'Oh, she wants me, ha ha ha!'"
Loring also points out that Diane Martel , the woman who directed the "Blurred Lines" video, is the one who came up with the idea to use the naked women in the clip, so don't blame her son for being sexist or exploitative.
"I found it very funny and playful," Loring laughs. "The guys are trying to look all cool and attract the girls, and the girls are kinda going, 'Ok, what- ever .'"
"I'm so excited about his success," she adds. "More power to him, I'm grinning from ear-to-ear as his mom."
And by the way, Gloria Loring isn't just Robin's mom: she's also a singer who scored her own top-10 hit back in 1986 with the duet "Friends and Lovers." She also co-wrote the theme songs for the TV shows The Facts of Life and Diff'rent Strokes with her then-husband Alan Thicke , Robin's dad.
Copyright 2013 ABC News Radio