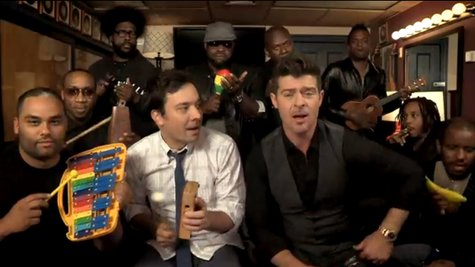 If you stayed up late to watch NBC's Late Night with Jimmy Fallon last night, you saw Robin Thicke perform a much different version of "Blurred Lines" than you've been hearing all summer.
Robin joined host Jimmy Fallon and his house band, The Roots , to sing his smash hit. What made this rendition so much fun was that everyone was playing elementary school classroom instruments, like a xylophone and cowbell.
This is a recurring bit for Fallon. Mariah Carey and Carly Rae Jepsen are among the previous artists who have performed "classroom instrument" versions of their music on his show.
Copyright 2013 ABC News Radio