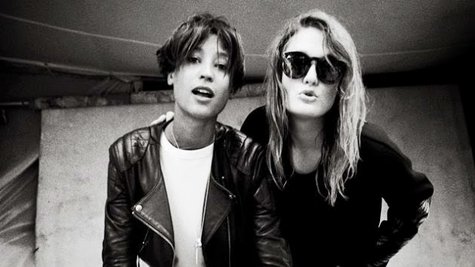 The 22nd annual Lollapalooza festival kicks off on Friday in Chicago and, while the lineup is heavy on alternative rock, many artists who've found their way onto the pop charts are also featured, including Icona Pop , Imagine Dragons , The Lumineers , Mumford & Sons , Emeli Sande , Alex Clare , Ellie Goulding and even the "Harlem Shake" guy, Baauer .
For Icona Pop, Lollapalooza is one of several major festivals at which they'll be performing over the next two months, but since it's such an iconic and long-running event, it stands out for them. Icona Pop's Aino tells ABC News Radio, "We are looking forward to all the festivals. I think all the festivals are very charming in different ways, but Lollapalooza is definitely...a huge thing for us."
The Swedish duo, who'll kick off their own headlining tour on August 12, says they're very comfortable performing at big festivals like Lollapalooza because they've been attending them as fans for years. "We've both been festival kids for 15 years, so for us, festivals are a natural thing," says Aino, noting that she and group mate Caroline enjoy "the feeling of freedom" you get at them. "There's something very romantic about festivals," she says.
As for Caroline, she loves the atmosphere at festivals, where fans of all genres of music come together, and the artists can check out one another's sets when they're done performing their own.
"We love the whole thing when you're performing at a festival and it feels like you're doing it together with the audience," says Carolina. "And then afterwards, you just go out and watch bands. You watch some of your favorite bands and then you find some new ones."
"There's just so much love," she adds. "Everybody's so happy at festivals."
Of course, if you're not able to make it to Chicago for the event, you can join the audience online: YouTube will be webcasting select performances from the festival all weekend long. The lineup of concerts that will be available on YouTube's Lollapalooza channel includes sets from Icona Pop, as well as Imagine Dragons, Ellie, The Lumineers, Mumford and Alex Clare.
Here's the full Lollapalooza webcast schedule:
Friday, August 2:
2:30 p.m. -- Smith Westerns
3:30 p.m. -- Icona Pop
4:15 p.m. -- Crystal Castles
5:15 p.m. -- Imagine Dragons
6:15 p.m. -- Queens of the Stone Age
7:30 p.m. -- Band of Horses
8:30 p.m. -- The Killers
10:00 p.m. -- Nine Inch Nails

Saturday, August 3:
2:15 p.m. -- Ben Howard
3:00 p.m. -- Court Yard Hounds
4:00 p.m. -- Local Natives
5:00 p.m. -- Ellie Goulding
6:00 p.m. -- The National
7:15 p.m. -- The Lumineers
8:30 p.m. -- The Postal Service
10:00 p.m. -- Mumford & Sons

Sunday, August 4:
2:30 p.m. -- Alex Clare
4:30 p.m. -- Two Door Cinema Club
5:30 p.m. -- Alt-J
6:30 p.m. -- Steve Aoki
7:00 p.m. -- Vampire Weekend
8:15 p.m. -- The Cure
Copyright 2013 ABC News Radio